Zuidstation-Gare du Midi
Q-Park Brussels Zuidstation-Gare du Midi is located south of the city centre, directly below the train station. It is a modern car park with all the convenient facilities you can expect from Q-Park. This car park can be accessed from Rue de France/Frankrijkstraat and Rue Ernest Blerot/Ernest Blerotstraat. There are 4 EV charging points (near the Rue de France/Frankrijkstraat entrance) and access to mobile phone networks throughout the car park. The car park also has an information point and a lift, so it is accessible for wheelchair users.
VIP/EXPRESS
A special feature of this car park is the VIP/EXPRESS zone on the first level (-1). When you park here you can walk straight from your car to the SNCB/NMBS platforms; extremely practical for short business trips within Europe. You can travel comfortably from Brussels Midi/Zuid station to major cities in the Netherlands, France, Germany and the United Kingdom.
If you want to be certain there is a space for your car so you don't have to cruise the streets looking for a space, why not pre-book online so you have guaranteed access to the car park or reserve a space in the VIP/EXPRESS area on the first level, right by the platforms. This way, you will also benefit from the most favourable rates available at that specific time.
Park+Fly
From Brussels Midi/Zuid station, you can travel to Paris Charles de Gaulle Airport by train within 90 minutes. And if you are flying with Air France you can even check in your luggage at the station in Brussels. This will be taken to the airport directly. You'll see your luggage again at your destination airport baggage reclaim. You can travel to Zaventem or Brussels Airport as it's usually known, in 20 minutes from Brussels Midi/Zuid station.
Special weekend deal
If you park regularly at Q-Park Brussels Zuidstation-Gare du Midi or work in the immediate vicinity, why not get a season ticket? You can then access and exit the car park quickly and easily without having to stop at the payment machine.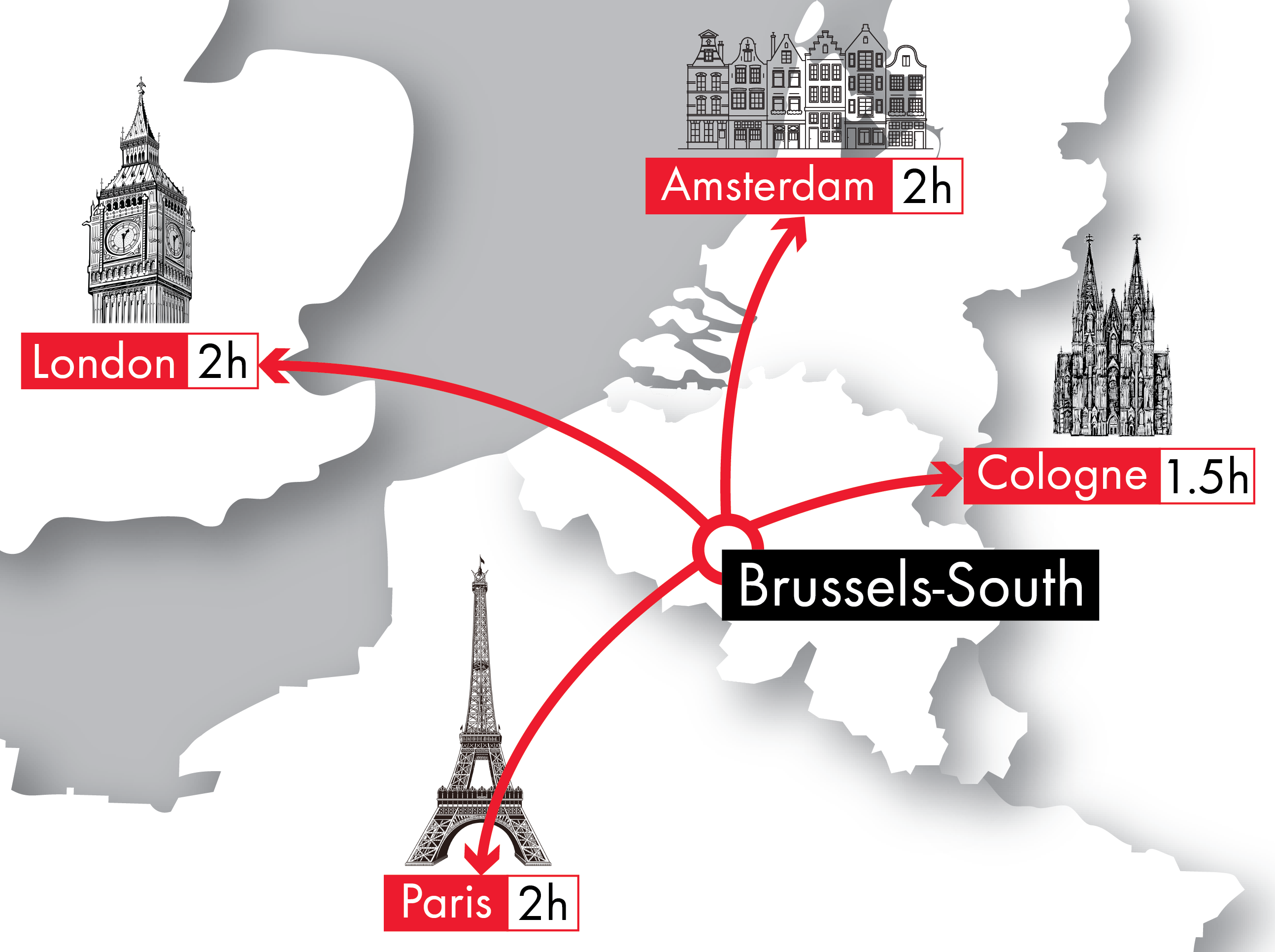 And for those going away for the weekend, there's a special weekend deal: park on Friday, Saturday and Sunday for only EUR 48 (pre-booking only). This works out at just EUR 16 per day.
What to do in Brussels South region
In this part of Brussels you will find several magnificent and amazing museums: from art nouveau and modern art (Horticultural Museum, Art &Marges) to the surrealistic Museum of Fantastic Art. Here you will also find several important cultural and historical sites, such as the Belgian National museum of the Resistance, the Orthodox Church Museum as well as the Cantillon Brewery and Brussels Museum of the Gueuze. And don't miss the Meunier Museum.
You will find many interesting buildings as you walk around the area. One to look out for is the Halle Gate that was once part of the old city wall of Brussels and which now houses the Halle Gate museum. A little further south, just outside the old city wall, is St Gilles' Church. In 1578 this church was destroyed by the local residents themselves to prevent Spanish troops from using the complex in a siege. The church has subsequently been rebuilt and damaged again several times. The church as it is today is characterised by a mix of Romanesque and Gothic elements that together are known as the Eclectic style.
If you walk northwards from Halle Gate, you will find yourself in Marolles/Marollen, a former working-class district. Its name is derived from the Maria Colentes convent where lepers were exiled in the Middle Ages. The nuns were called Maricolls/Maricollen, which later degenerated into Marolles/Marollen. There is a flee market every day at Place du Jeu de Balle/Vossenplein. The Law Courts are situated at the other side of the district. You can reach the Palais de Justice/Justitiepaleis via a lift that will take you 20 metres up to the Place Poelaert/Poelaertplein. This enormous, imposing building with a massive dome is surrounded by columns, and visitors can freely access part of the building. Take a look inside and wander along the pompous corridors and grand staircases. Don't forget to look up to admire the domes and art works.
Staying in Brussels South region
If you are staying in one of the many luxury hotels in the Brussels South region you can park your car safely off the street in one of the three Q-Park car parks: Zuidstation-Gare du Midi, Bascule or Louise. Hotels in the vicinity of these car parks include the Park Inn by Radisson Brussels Midi, Pullman Brussels Centre Midi, Hotel des Deux Gares, Hilton Garden Inn, The Pantone Hotel, Citadines Toison d'Or, The Hotel Brussels, Hotel Be Manos, Hotel The Augustin, Hotel Barsey by Warwick, Hotel Le Chatelain, Qbic Hotel Brussels, Zoom Hotel, Pentahotel Brussels City Centre, NH Hotel Stephanie, NH Collection Brussels Grand Sablon, Pillows Grand Hotel Place Rouppe and the Steigenberger Wiltcher's.