Parking with the Q-Park Mobile app couldn't be easier: find a car park near your destination quickly and easily, link your number plate to your bank account so you can drive in and out of Q-Park car parks without taking a ticket or fumbling for your bank pass – it's fully contactless! And, of course, the app maintains an overview of your parking transactions.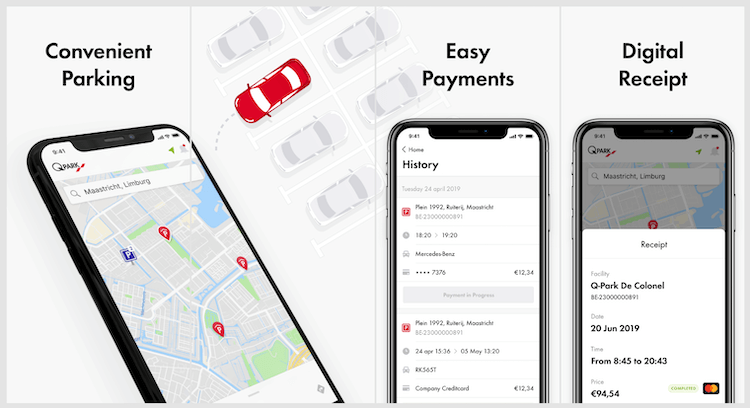 Car park near your destination
Use the app to select and navigate to the car park closest to your final destination. When you've parked, you can save the exact location of your car in the app. This helps you find your car back later and also helps you find the pedestrian route to nearby destinations.
Contactless number plate recognition: driving in and out without a ticket
In all Q-Park car parks in Belgium you can drive in and out on your number plate. To take advantage of this convenient facility, all you have to do is link your number plate to your bank account in the app (only available on the Belgian app store). When you drive up to the barrier, the camera will scan your number plate and then open the barrier so you can drive in without taking a ticket. The payment for your parking transaction will be automatically deducted from your bank account and you will receive the receipt digitally.
All features of the
Q-Park

Mobile app at a glance:
Quickly find a car park anywhere in Belgium
Access and exit the car park hands free and without taking a ticket – fully contactless
Pay through your bank account based on your number plate
Easy to navigate to the car park and then to your final destination
Easy to save the exact location of your car and find it again
Download the Q-Park Mobile app to your smartphone from the app store: